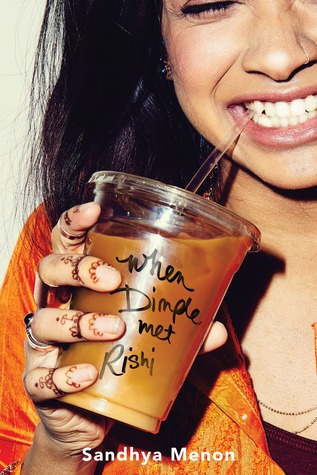 Dimple Shah has it all figured out. With graduation behind her, she's more than ready for a break from her family, from Mamma's inexplicable obsession with her finding the "Ideal Indian Husband." Ugh. Dimple knows they must respect her principles on some level, though. If they truly believed she needed a husband right now, they wouldn't have paid for her to attend a summer program for aspiring web developers…right?
Rishi Patel is a hopeless romantic. So when his parents tell him that his future wife will be attending the same summer program as him—wherein he'll have to woo her—he's totally on board. Because as silly as it sounds to most people in his life, Rishi wants to be arranged, believes in the power of tradition, stability, and being a part of something much bigger than himself.
The Shahs and Patels didn't mean to start turning the wheels on this "suggested arrangement" so early in their children's lives, but when they noticed them both gravitate toward the same summer program, they figured, Why not?
Dimple and Rishi may think they have each other figured out. But when opposites clash, love works hard to prove itself in the most unexpected ways.
Source:
Goodreads
My thoughts:
I discovered this novel on
Bookstagram
and since I have heard such great things about it, I thought I'd give it a try, especially since I am in the mood for contemporaries right now.
And I am really glad I read
When Dimple Met Rishi
because I enjoyed it very much, although I had some minor issues with it.
Overall, the story of Dimple and Rishi was so cute, fun and heart-warming! I simply flew through this book since it was such a delight to read.
When Dimple Met Rishi
is told from the POV of both Dimple and Rishi, and I absolutely loved to get to know these characters and experience the same interactions through their thoughts and feelings.
Dimple is a very strong young woman who knows exactly what she wants - namely getting a college degree and having a successful career as a web developer. Her mother has other plans for her though, since she wants Dimple to marry young and become a housewife.
I really liked Dimple because she was so independent and she just stayed true to herself. She was very passionate about coding and I enjoyed reading about the summer program for aspiring web developers.
Rishi on the other hand is very traditional and has a great respect for his culture. He wants to please his parents at any cost even though that means neglecting his passion for art and comics.
I loved Rishi, he was such a cute guy. He was kind, wanted to make everyone happy and he embraced his cultural identity - and I just loved that about him.
Dimple and Rishi's relationship was so adorable. Despite the fact (or maybe because of the fact) that they were so different, they complemented each other perfectly, they were supportive of each other's passion and they often questioned themselves. Dimple and Rishi were just a charming couple and I loved reading about them.
When Dimple Met Rishi
was a funny read and I had to laugh out loud quite a few times. Nonetheless, there were a few things that I disliked about this book. I didn't like the stereotype regarding the "Aberzombies" for example, and I also wished Dimple would have had more respect for her culture like Rishi did.
All in all,
When Dimple Met Rishi
was still a very entertaining and hilarious novel that made me fall in love with the main characters. The writing style was fabulous, the protagonists were relatable and the themes the author touched upon are very important. Ultimately,
When Dimple Met Rishi
is a novel about finding oneself, family, and first love, and that's why I recommend this book to everyone out there who loves charming contemporaries!
Rating:
4 out of 5 stars
Andie